Can I be real with you all for a minute? I was really not excited to move back to Central Illinois. The birth community in Hawaii was LOVELY and I had a terrific out-of-hospital birth experience in Colorado. Out of Hospital births have a HUGE spot in my heart. So, I was dreading coming back to an area that wasn't particularly friendly to those who may not want a hospital birth experience. I LOVE hospital births and think they can be fabulous options for many pregnant women, but I don't think it should be the ONLY option.
Well, I want to introduce to you the NEWEST out of hospital birth option in Central Illinois... the Birth Center of Bloomington-Normal. Now, being a home birth mama myself, I really thought I was gonna be a tough sell on the birth center. Like, why would I want to leave the comfort of my home? Riding in a car in labor is the WORST, you guys. But my expectations for the birth center were BLOWN OUT OF THE WATER. It felt like I was walking into a friend's (SUPER WELL DECORATED) home. Check this out!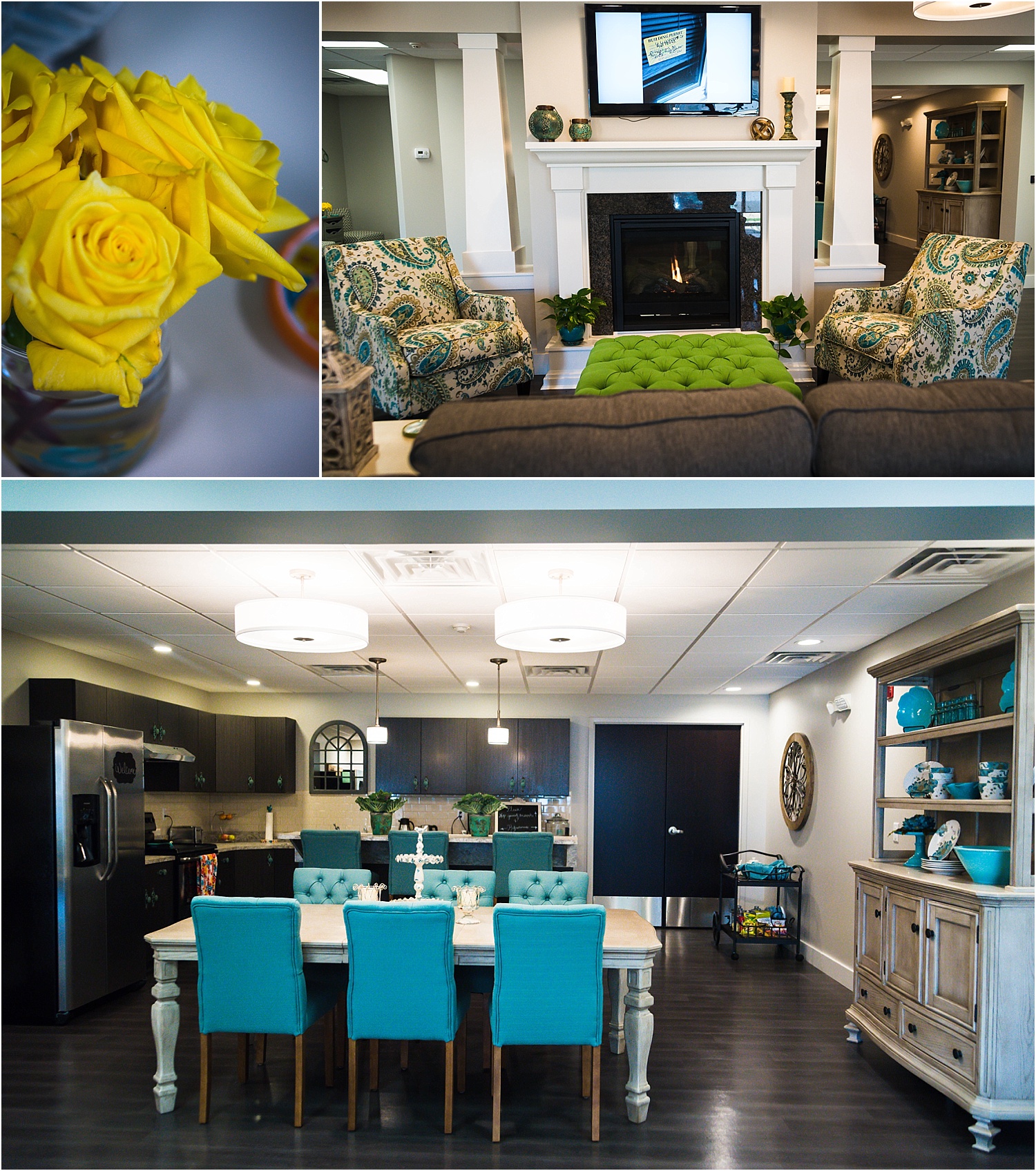 When you walk in, you're greeted by an open, and welcoming living room-style waiting area. There's a cozy and inviting feel right as you walk in. I can just imagine family relaxing around the fire, waiting to meet their little one.
Next, there's a full kitchen and dining room, complete with complimentary snacks and refreshments. Have something special you'd like to eat in labor? Bring whatever you'd like! I was given some delicious blueberry-infused water to sip on while I chatted with staff.
Next, you can walk into the birthing suites, where there are three beautifully-decorated private rooms to chose from. Now, here's where my mind was REALLY blown.
Isn't it STUNNING? Look how inviting these rooms are! It truly feels like home. Only you don't have to clean it or decorate it and the bathtub is ginormous ;) To the right of the bathtub, you'll find a bathroom with a separate shower. You can see that these suites were METICULOUSLY designed.
The birth center is only the second in the state of Illinois, and the only birth center outside of Chicago. The birth center is ideal for low risk woman who desire a customized birth experience without traditional medical interventions.
Wouldn't it be nice to see the same provider throughout your pregnancy and KNOW she's going to be the one to be there on the day of you birth? Wouldn't it be nice to let your guard down and have control over your birth experience? If those things are important to you and you're a low risk pregnant woman, I HIGHLY recommend you set up a tour!
Want to see what giving birth at the Birth Center of Bloomington-Normal really looks like? Hit play below!
Congratulations to CNM Amie Hernandez and all the staff at the Birth Center of Bloomington-Normal. They're state-licensed and ready for you to welcome your baby! I'm looking forward to working with them in the future.
For some FAQ and to connect with doulas who serve the Birth Center, click here.
To set up a tour with the birth center and for additional information, be sure to visit the Birth Center of Bloomington-Normal's website at birthcenterbn.com.
And seriously. Schedule that tour. Right now. You'll fall in love.