Last week, I was honored to attend a beautiful water birth at our local birth center. Instead of sharing my own story of how Declan's story unfolded, Rebekah has so graciously and eloquently agreed to share her own story...
"Valor Declan's birth story is one woven by many answered prayers. I can't type one sentence further without first acknowledging that God's tender love, grace, and peace were so very present in every moment of our experience. Valor (or Declan, as we call him) is our 3rd and final baby. Knowing this would be our last birth experience, I had prayed for several things to happen according to my heart's desires, and God honored each one of them.
The first of these answered prayers was getting connected to the wonderful Lydia Stuemke as our birth photographer. Never having had a photographed birth, I asked God to provide a good deal for one. Within days of inquiring on a Facebook group for a reasonably priced professional, Lydia contacted me with a deal that fit what I had prayed for! It felt too good to be true!
We planned on doing a home birth with this baby, but something within me didn't feel complete peace about it. I was interested in going to the new birth center in town, but they hadn't received their license to open yet. Then, just 3 months before my due date, the Birth Center opened its doors! I dropped in on a whim and was given a tour, and on the spot I knew that this was the place to birth our child. God was definitely directing us where to go with this one. Now, my first two pregnancies went well beyond their due date, with both of them ending by inductions (one in the hospital, one at home). I longed to know what it would be like to experience spontaneous labor. Yet again God poured out His generous grace on me, and that's where the rest of the story begins…
My due date was January 2nd. Dreading the thought of potentially being pregnant past 42 weeks as I had with my last baby, I was doing everything I could to get this baby to come soon…acupressure, long walks, herbal teas, consuming vast amounts of dates, pleading with God, etc. The Sunday before Declan's birth, my husband Andrew and I went on a date to the woods and hiked for what felt like five miles (but was probably just one or two). That night I thought I was getting sick with an intestinal bug, but this felt different than any other "virus" I'd experienced before. I was fine the next day. On Monday night, as I bounced on the birthing ball while playing cards with my family, I felt frequent Braxton-Hicks contractions, as I had been for days, but with no increasing intensity. I secretly hoped this meant that labor would be coming soon, but tried not to obsess over it (which was not easy!).
At 12:30 am Tuesday January 3rd, I awoke from sleep to a contraction and noticed that my low back was aching. I got up and went to the bathroom and started timing the next few contractions. They were consistently less than three minutes apart. I was hesitant to believe this was active labor, even though I knew the sensations were valid, but decided to contact Lydia (nearly an hour away from us), who immediately set out in our direction. Between contractions I felt completely fine, but with each one, my low back and legs ached. I woke up Andrew and we began to get ready. Andrew called Amie Hernandez, our midwife at the birth center, who encouraged us to wait 30 minutes before leaving the house since I could still talk and move during the contractions. So we waited, and by a little after 1:00 am I was undoubtedly in real labor. Somewhere in that time frame, I had also notified my doula, one of my best friends, Samantha Schoenecke, who then headed out to meet us at the birth center. We woke up my mom and dad, who were staying with us to help out, and my mom got ready and hopped in the minivan. We left as soon as Lydia greeted us at our door. At 2:00 am we were on our way to the birth center, with soft piano music playing (Dollar Tree cds for the win!) to help me relax.
We arrived at the birth center around 2:20 am, and were greeted softly by Amie and the staff. They had already prepped our selected birthing room #3 and had the tub filled with hot water just waiting for me. I labored a few minutes up against the bed and tub while everyone got things ready around me. It was so quiet and peaceful; I could hardly tell there was movement going on in the background. Shortly after we arrived I decided to climb into the water, which felt wonderful on my belly and body. Contractions came swiftly now, and I was getting more focused. Another midwife named Amy did a Doppler check on Declan, which proved to be a little more difficult as he had dropped down much lower in my abdomen. Between contractions we all chatted and joked, and then I became more inwardly focused.
I changed positions in the tub several times, trying to find the most comfortable way to relax completely. Andrew climbed in with me and stroked my back, while Samantha helped me sip water and whispered encouragement. My mom acted as the second photographer, snapping away silently on her iPhone and updating family via text while Lydia swiftly and smoothly documented the unfolding events with her stealthy camera. As wave after wave of strong contractions washed over me, I internally repeated 2 Corinthians 12:9-10 from the Bible, which was so empowering: "And He said to me, 'My grace is sufficient for you, for My strength is made perfect in weakness.' Therefore most gladly I will rather boast in my infirmities, that the power of Christ may rest upon me…for when I am weak, then I am strong." I prayed silently, asking God to bring our baby quickly and relieve me of this pain soon. Between contractions I was also encouraged by the birth affirmations I had made and had posted on the walls around the room, which included artwork by our 4 year-old son Judah.
I didn't think I was too far along in labor, so I told Andrew "once this gets really hard, I'm going to want the shower head on my back." It wasn't long, though, before I felt a pop and my water broke! I announced the fact, and Andrew helped me get my swim shorts off. Within seconds I was bearing down. I could hear Amie behind me then, gently coaching Andrew how to catch our baby. I don't remember how long I pushed, but it was probably about 3 or 4 times. Since I was facing the outside of the tub and couldn't see the birth, Andrew joyfully exclaimed, "Babe, I can see his head!" After a pause, Amie directed me to lift up my leg into an asymmetrical position, and then at 3:19 am, weighing 9 pounds & ounces and 22 inches long, out came our son. Andrew caught him and gently guided him up to my chest.
The emotions in the moments following our son's birth were near impossible to describe in words. I felt such a mix of joy, relief, exhaustion, shock, and wondrous awe. It will never cease to amaze me what a beautiful miracle childbirth is; to experience nine months of growing a human life inside my body, being able to bring forth my child through birth, and holding that precious bundle of wet, slippery warmth against my chest. When Andrew placed Valor Declan in my arms, I was still catching my breath from the whirlwind of labor that had lasted just less than three hours, and, shaking with joy and exhaustion, I cried and thanked God for His grace in getting us to that moment so graciously.
I felt so safe and loved during our time at the birth center. Not only did having my mom there to witness the birth of her grandson, my close friend at my side gently cheering me on, and my best friend of a husband tenderly supporting me through every moment of labor and birth make it a serene experience, but the atmosphere of the birth center made us feel welcomed, confident, and at home.
Amie and the staff at the birth center were incredible, making our experience there one that I'll never forget and will forever be retelling with a grin on my face. They comforted and praised us, encouraged us, and overall provided such a sweet and tender hospitality with warmth that felt just like home. They truly made us feel in control of our birth, honoring every request we had made and ensuring we had the experience we dreamed of. Valor Declan was the first baby to be born in Room #3. The birthing room was more beautiful and luxurious than a hotel honeymoon suite, and being served cold orange juice and granola bars in bed after the birth was a delicious perk! We were invited to stay as long as we felt we needed, and were able to rest comfortably in the privacy of our room with virtually no interruption.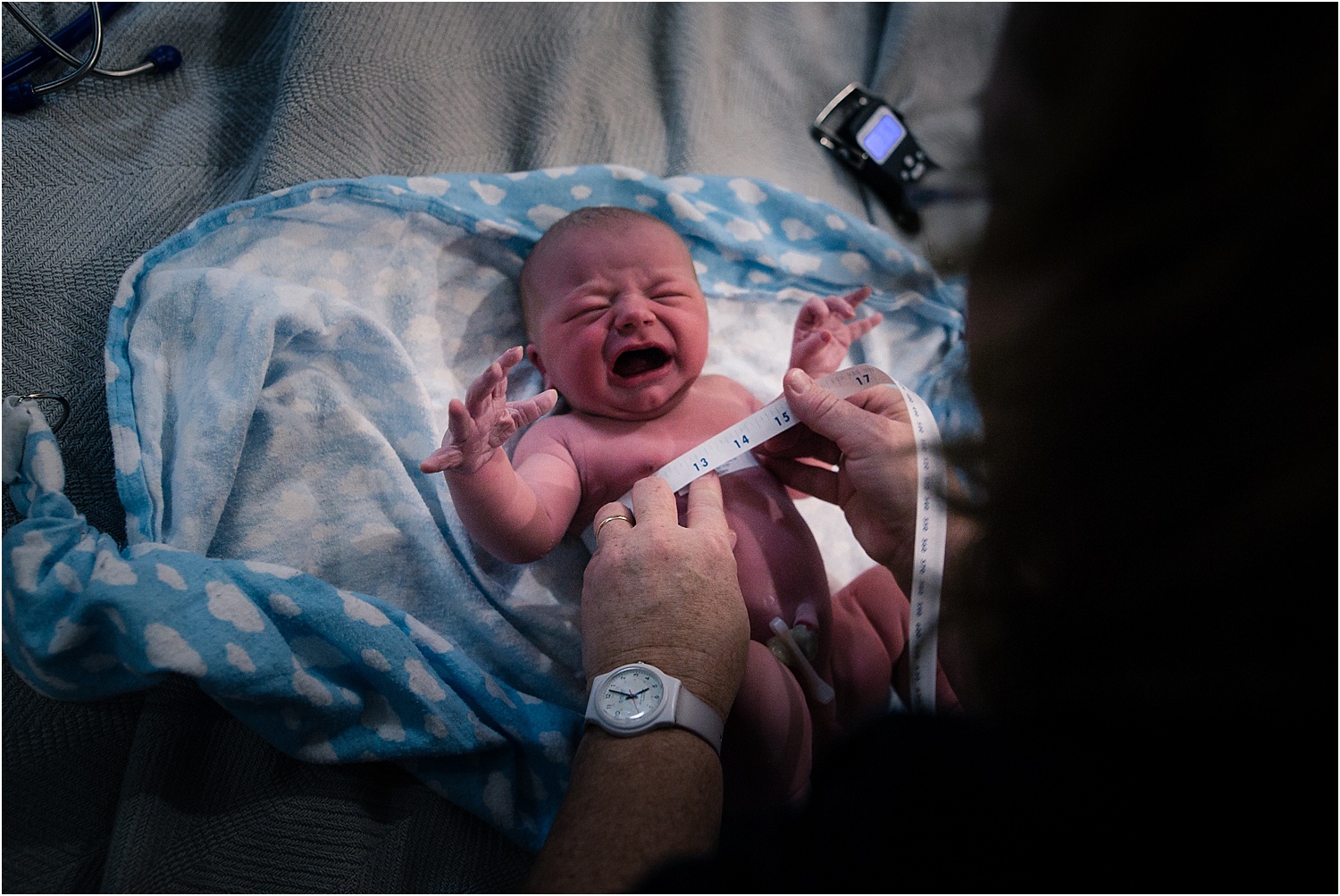 Andrew had prepared to make us all breakfast, and cooked our family a delicious brunch of homemade waffles before we headed home, which we offered to the staff (all of whom felt more like good friends at that point!). Amie would have stayed and eaten with us, but she had already been up with another birth before ours and was in much need of her own bed and pillow. We ate at the big table in the luxurious kitchen of the birth center, and laughed and relived the beautiful, crazy-fast, amazing experience that had just unfolded those hours before. Not to knock on hospitals, but how many families can say they've enjoyed a leisurely home-cooked meal in a beautiful and comfortable kitchen at the place they've just given birth, with their hours-old baby snug in their arms and friendly staff stopping at the table to chat and exchange stories?
Now, with me, every birth experience from hospital to home to birth center has had its euphoric effect on me and my memory…but in conversation a week after our son's birth, while holding my precious newborn in my arms, I commented to my family that out of all three births, our experience at the birth center ranks as my #1 favorite. A beautiful atmosphere, gorgeous home-away-from-home facilities, outstanding staff that made us feel like family, and a birth team that felt so connected to our hearts made it the best of all three birth experiences I've had. I am so thankful and overwhelmed by God's goodness that covered our son's arrival with incredible grace, and for the strength He gave me to complete the hard yet amazingly beautiful marathon that is pregnancy and natural childbirth. And I am so incredibly grateful for each person that played a vital and unforgettable role in helping us welcome our son into the world. We couldn't have done it without them!"
I can't recommend the Birth Center of Bloomington-Normal highly enough! Their care was tender and personalized and exceeded my expectations. To learn more about working with Amie Hernandez at the birth center in Bloomington-Normal, Illinois, visit their website here.
 
GRAB SOME TISSUES AND SEE DECLAN'S BIRTH FILM BELOW: